Easton X23 Two Tone Arrows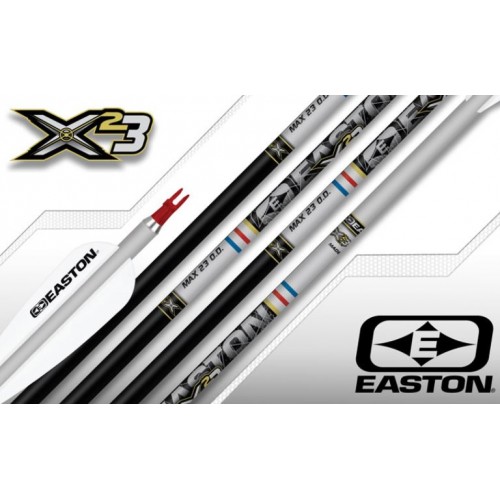 Aluminium shaft from Easton.
Key features:
Classic high performance indoor shaft from Easton.
The same high specifications and

performance

with two-tone anodized finish.
Maximum diameter for WA (FITA) rounds.
Durable X7 alloy construction (7178-T9 alloy).
Uni bushing included for easy nock installation.
Technical specifications:
Material: AluminiumDiameter: 9.3mm Straightness: ± .001"Weight tolerance: ± .075%Available spines: 2312: 0.423, 2314: 0.391 2315: 0.340 Uncut length (approx): 2312: 33", 2314: 33.5" 2315: 34" Included components: Super uni-bushingOptimal for: WA Indoor Archery
As standard these will be fletched with EP40 vanes for indoor shooting, a 100g one piece point and super nocks. If you have a prefered colour please state in the comments.

We have no problem making arrows to different specifications with different fletchings, please let us know in the comments section what you would like, any fletching other than EP Vanes may increase price so if unsure please give us a call.

Arrow Type
Arrow Type
Aluminium