Beiter Button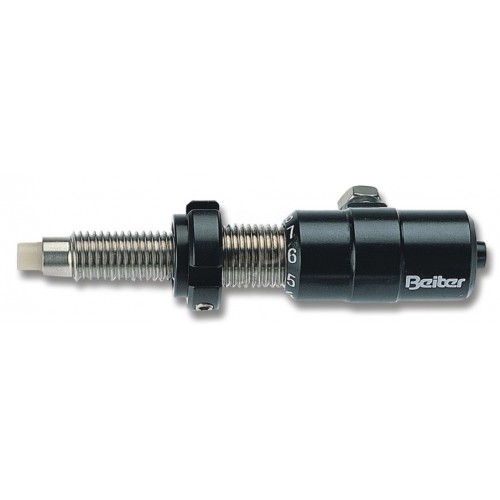 Have you ever tried to precisely micro adjust your plunger, only to find it has passed the tension point you were wanting.
The Beiter Cushion Plunger features a micro-adjustable scale with reproducible precision tuning with three different springs to provide the right amount of resilience to accommodate every archer's needs. The notching scale cylinder allows an exact and reproducible spring tension time after time.
Made from precision machined parts, this plunger delivers accurate and precise tuning that will never frustrate you.
The threaded cylinder on this cushion plunger is made of high-grade refined steel, with the springs honed out of stainless harmonic steel and the notching scale cylinder and the slotted nut crafted from anodised aluminium. The tip plunger has excellent glide and wear characteristics, suitable for use with all arrows, be they aluminium, aluminium-carbon or carbon.
The Beiter Plunger was first developed in 1985-1986 and introduced at the famous 1987 Las Vegas Shoot. At the 1996 Olympic Games in Atlanta, USA, about 80% of competitors used a Beiter Plunger and it is now used by archers world-wide.
The Beiter Plunger 19 piece kit contains
◦One cushion plunger with a 0.60 hard spring installed
◦One yellow spanner
◦One red open spanner
◦Two 0.70 extra-hard springs
◦Two 0.60 hard springs
◦Two 0.45 soft springs
◦One 1.5mm Allen wrench
◦Two Allen head screws for slotted nuts
◦Six pins in the required length
◦Telescoping circular clear plastic storage tube to safely stow your plunger and parts
◦Plunger has a 5/16"-24 thread ◦Precision made in Germany
◦Arguably the best plunger on the market and the plunger of choice of most Olympic and tournament archers Beiter Plunger is the ideal partner for a Beiter arrow rest.